Can my wife get my domestic family violence assault charge dropped in Houston?
No.
In over 90% of the domestic violence cases on docket in the Harris County (Houston, TX area) misdemeanor and felony District Courts the case goes all the way to the day of trial before being dismissed. That has been the case even when the so called domestic violence victim has written letters and affidavits of non-prosecution and has called the family crimes unit of the Harris county district attorneys office in protest.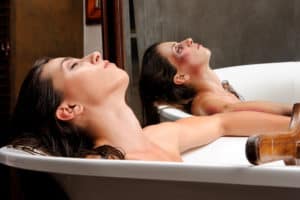 The Harris County District Attorney has a special division in their office called the Family Criminal Law Division (FCLD). The prosecutors assigned to this unit specialize in the prosecution and conviction of defendants (almost always a man) accused of domestic assault violence by an alleged victim who now wishes to drop the charges by recanting (changing the nature and scope of her original accusation) or now denies, or minimizes, that that an assault, or some the details, ever occurred.
The Harris County prosecutor will not listen to your wife's new version of what happened for many reasons;
the victim recants because she is afraid of retaliation,
the victim is suffering from learned helplessness and post traumatic stress disorder and doesn't know right from wrong any longer,
or the accused domestic batterer is the sole household provider.
Any "so called" household member will qualify for the enhanced family/domestic violence punishment laws by simply having lived, dated, or was involved in a prior relationship with the accuser even if the relationship ended years ago.
I once had a client who was a dorm resident at the University of Houston's pharmaceutical school. My client was charged with domestic violence because he was the winner of a fair fist fight between him and his dorm mate.
You can be charged with a misdemeanor Class A family violence crime by simply touching in an offensive manner, causing the fear of physical harm, or causing any kind of pain to the complainant.
The pain requirement is a subjective standard.
The punishment for the Class A misdemeanor crime of family/domestic violence in Texas is punishable by up to a year in the Harris County Jail and a 4,000 fine or probation.
The prosecutor will likely offer some form of onerous straight probation, deferred adjudication, or jail time. The domestic violence case can be dismissed if the lawyer works a plea bargain for deferred adjudication.
Can I clear my record for a domestic violence assault in Texas?
No.
You will never be able to clear your arrest record for domestic/family assault violence in Texas because, under current laws on the books, you're not be eligible for an expungement or a certificate of non-disclosure.
The charge of family violence will forever remain on your record.
The only way to erase or seal the charge of domestic violence/family assault is to have your case dismissed by the prosecutor or to receive a not guilty verdict at trial.
If you work out a plea bargain for a family violence case, and the case is dropped to a class C misdemeanor (no jail time and up to a 500 fine), you'll be charged as a felon if another person in your future or past brings similar charges against you. Any person deemed a past or present household member (past relationships as well) can bring domestic assault charges against you by virtue of any previous cohabitation.
The potential for this threat to your freedom will persist for a lifetime.
Domestic Assault & Perception
Family violence is deemed a crime of MORAL TURPITUDE. This means the crime of domestic violence is considered to be of such a deviant nature as to be on par with those convicted of prostitution, shoplifting, indecent exposure etc.
The standard required for law enforcement to bring charges is low.
An "alleged" victim would need only to call the police and make a claim of domestic violence. The responding officer will make a report, call it in to DA intake where an experienced or inexperienced prosecutor works a phone on a rotating basis and decides whether charges (a complaint) will be brought against the accused.
Any fear or apprehension of physical harm, offensive touch, or subjective perception of pain will be enough to stand accused of this crime. In addition, your 2nd Amendment Constitutional Right to bear or carry firearms will be suspended (per federal law) for 5 years.
Motion and Order for Emergency Protection
Upon arrest, after a minimal or no investigation, you'll be the recipient of a Motion and Order for Emergency Protection (MOEP) that will bar you from coming within 200 yards of your home regardless of whether or not you have some other place to go for 61 days.
The complainant can also apply for a protective order which can leave you banned from your home for a period of up to two years. Violate the MOEP and you'll be jailed for contempt of court. Violate the protective order and you'll be arrested and charged with another felony offense. Trust me, the Houston Police Department and the Harris County Sheriff's Office execute warrants related to contempt of court allegations more often than not.
I once represented a fellow from Ireland who was the captain of an oil tanker that had just come into dock. The captain had a small second home in the Channelview Area. Shortly after coming to port, the Captain met a young lady in a bar and took her to his home. Later that evening, and after drinking heavily, the woman became agitated about something and alleged domestic violence to the police on her cell phone.
Within minutes the police arrived and, without ceremony, arrested my client.
My Irish client bonded out of the Harris County Jail in downtown Houston only to be quickly acquainted with a MOEP. He was instructed not to go back to his own home. He ignored the court's orders, went back to his home, knocked on his door – he didn't have his keys and the young lady he met the night before summoned the police and he was arrested for violation of the MOEP/PROTECTIVE ORDER.
If you're ever arrested in Houston for a criminal offense related to domestic violence/family assault in any way, hire a criminal defense lawyer with a history of winning not guilty and dismissals from jurors in the court of law. Houston criminal defense lawyer Jack B. Carroll will fight vigorously to ensure that your rights are defended and that your freedom is secured (defending on the details of your situation and previous criminal history).
Call me at 713-228-4607 if you need to talk.