Robbery, Aggravated Robbery
Robbery is a serious criminal act to be accused of in the State of Texas. If you've been accused of such a crime, and are looking to hire a criminal defense lawyer in Houston, call Jack B. Carroll at 713-228-4607. Robbery is considered a violent crime so law enforcement and Houston area criminal justice courts will look upon you as a violent professional felon when this may not be the case.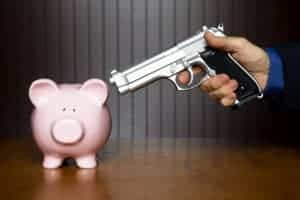 Even if you are guilty of a robbery offense, everyone makes mistakes. You would think that the people who make up the criminal justice system would understand this, but they often don't. Usually, this results in the accused being treated like a hardened criminal and left to feel as if no one is in their corner.
This isn't the situation when Board Certified® Houston criminal defense lawyer Jack B. Carroll is on your side.
Houston based criminal defense attorney Jack B. Carroll has represented thousands of Houstonians over the coarse of his 20+ year criminal defense career. Many of which have been alleged to have committed crimes ranging from shoplifting, to aggravated robbery with intent to commit bodily harm.
Situations That Can Lead to a Robbery Arrest
Mistaken Identity.
You were with someone who committed the robbery, but wasn't aware of a robbery in progress, and was accused of being a knowing accomplice.
You were the owner of the property.
Entrapment, and set ups. (Imagine going through a divorce and being accused of aggravated robbery, at your own home.)
Possession of stolen merchandise, leading to a robbery charge.
Even if you are guilty as charged for a robbery offense in the Houston area, you deserve to be treated with respect by the criminal justice system in Texas, and your attorney.
By hiring a qualified, highly respected lawyer like Jack B. Carroll, or another equally qualified criminal defense attorney in Houston, you gain the best assurance that the criminal courts and prosecutors will treat you with respect with regard to you fighting the State's allegations against you.
Imagine having your public defender bring the prosecutor into the pre-trial holding facility to "dress you down" in an attempt to convince you to accept a deal that doesn't represent your interests. This nonsense happens all the time and I have seen this happen to defendants time and time again while in the process of representing my own clients.
If You've Been Arrested for Aggravated Robbery, or Robbery, contact Houston Criminal Attorney Jack B. Carroll as Soon as Possible for a No-Cost Case Evaluation.
---
Brazoria · Chambers · Fort Bend · Galveston
Harris · Liberty · Montgomery · San Jacinto · Waller
---
Houston (State of Texas) Robbery Penalties, Laws, and Punishment
Robbery is a theft crime which involves violence, the threat of death or bodily harm, and often a weapon. Therefore, criminal punishment is far more severe than the average theft or burglary charge.
As noted by Texas Penal Code Title 7, Chapter 29, robbery is described as partaking in either of the following in the commission of a theft:
Intentionally, knowingly, or recklessly causing bodily injury to another, or
Intentionally or knowingly threatening or placing another in fear of imminent bodily injury or death.
Robbery is a second degree felony in the State of Texas in punished carries a sentence of 2 to 20 years in prison with fines of up to $10,000.
Aggravated Robbery Charges
Aggravated Robbery charges come into play if you are accused of the partaking in any of the following acts during the commission of a theft:
Causing serious bodily injury to the person being robbed (the victim), or another person.
Brandish, or use a weapon considered to be deadly weapon during the commission of a robbery.
Threaten, or cause fear of death, in a senior citizen, or a handicapped disabled person.
This criminal offense of aggravated robbery is classified as a first degree felony in the State of Texas.
First degree felony convictions in the State of Texas carry possible penalties of up to 99 years incarceration in the Texas Department of Corrections as well as fines of up to 10,000.00.
Being accused of Aggravated Robbery Is a Serious Situation
If you've been accused of robbery, aggravated robbery, or another criminal act, and want one of the best criminal defense lawyers in Houston on your side, call Jack B. Carroll today to discuss the situation and work on a plan of action for your defense.
---
Robbery – Aggravated Robbery – Criminal Defense