Methamphetamine, also known as Desoxyn® & meth, is a dangerous drug with serious criminal consequences for people arrested in connection with the drug within the State of Texas.
Information about Meth Related Criminal Offenses in Texas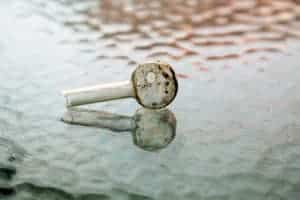 In Houston, & especially the surrounding eight-county area, meth lab discoveries & meth-related criminal cases are on the rise. This is the result of the drug's increase in popularity, addictive high, and simplicity of production.
Criminal courts in the counties of Harris, Fort Bend, Brazoria, Montgomery, Liberty, Waller, Galveston, Chambers & San Jacinto impose serious penalties on defendants alleged to have committed a criminal offense related to the delivery of meth, sale of meth, meth lab operation & possession of dangerous chemicals (chemicals used to manufacture meth).
If you or a loved has been accused of a crime related to meth, call me at 713-228-4607 to discuss the matter as soon as possible.
---
If you've been accused of meth delivery or possession, and are innocent, you'll need a very good lawyer.
If you have been accused of a crime related to meth delivery, manufacture or production, & are guilty as charged, you will need an even better lawyer because you are facing serious prison time, which can be reduced.
Facing a Meth Charge in Houston?
Call Houston Criminal Attorney Jack B. Carroll For Immediate & Aggressive Legal Representation & Defense From Meth Prosecution
All Meth Cases are Felonies and Harshly Prosecuted
---
Meth is Defined as a Dangerous Schedule II Drug
As a Schedule II illegal drug, meth, or methamphetamine, is defined as drug with high potential for abuse, potentially leading to severe psychological or physical dependence. Meth is considered a dangerous drug by The State of Texas, & this means meth offenders are treated severely by the criminal justice system in the Houston area.
As one of the most experienced criminal defense lawyers in Houston, I can promise a top shelf defense strategy if you've been arrested for a meth related criminal offense in the Houston area. I've successfully defended a gentleman with 3 concurrent meth cases from different counties, as well a deep water engineer accused of meth lab operation.
My list of additional favorable client outcomes is lengthy. If you hire a criminal defense attorney in the Houston area who doesn't have experience with these types of cases, you will face the harshest possible punishment from the State of Texas if you are found guilty.
Meth Possession Prison Terms & Penalties in Texas
The table below outlines the penalties for meth possession, which is largely based on the quantity of meth the accused is alleged to have had in their possession.
| | | |
| --- | --- | --- |
| Amount of Meth | Offense Classification | Range of Punishment |
| Less than 1 Gram | State Jail Felony | Up to 2 Years' Incarceration & 10,000 Fine |
| 1 gram- 3.99 Grams | 3rd Degree Felony | 2-10 Years' Incarceration & 10,000 Fine |
| 4- 199 Grams | 2nd Degree Felony | 2- 20 Years' Incarceration & 10,000 Fine |
| 200- 399 Grams | 1st Degree Felony | 5- 99 Years' Incarceration & 10,000 Fine |
| 400+ Grams | Enhanced 1st Degree Felony | 5- 99 Years' Incarceration & 10,000 Fine |
Avoiding Jail Time For Houston Area Meth Convictions
There are a few ways to circumvent or reduce jail time for a meth case in Texas:
Be found not guilty,
Accept probation or community supervision, or
Enter a plea agreement.
Any sentence handed down by the courts will take into account the circumstances of the case, demeanor at the time of arrest, other involved parties, evidence, and your criminal history. Some cases should go to trial. Other cases should be pleaded out as soon as possible. In some cases, I can have evidence thrown out if it is found to have been collected in violation of the Fourth Amendment to the Unites States Constitution.
For more information about meth cases, or to schedule a consultation at no charge, call me at 713-228-4607.
Meth Charges and Criminal Penalties – Jack B. Carroll, a Houston Defense Lawyer
Jack B. Carroll is a Board Certified attorney with experience fighting meth related criminal accusations.