Amongst some of the more "in the know" criminal defense lawyers in Houston, there's been some off the record discussion about an expected storm of internet child pornography criminal cases coming out of the Montgomery County, TX district attorney's office.
Most Houston, TX area criminal defense lawyers know that Montgomery County law enforcement officials are looking into, and identifying, hundreds of citizens who could see themselves eventually accused of downloading, accessing, receiving, unknowingly distributing, or viewing, child pornography over the internet.
Hands down, this is the one of the most exclusive rumors circulating in and around the legal circles of top criminal defense lawyers, who many consider to be in the know, in the Houston criminal justice community.
Aside from the rumors, there are in fact a number of child porn cases being pursued in Montgomery County, TX, but nothing like what some lawyers are expecting to see over the coarse of the next few years.
Recent Houston Area Criminal Child Porn News Reports
There have even been some recent news reports (the first two listed below are less than 90 days old as the time of this writing) which help to add illustration to the ferocious nature of the pursuit of child porn cases by Montgomery County law enforcement officials.
Former Harris County Detention Officer Sentenced to 15 Years for Child Porn
The Department of Homeland Security, Houston Police Department, Montgomery County Precinct 4 Constable's Office, Montgomery County District Attorney's Office and the Internet Crimes Against Children Task Force were involved in this case.
(Link To Story) (Link to the ICE Press Release)
The New Caney Man Arrested Twice in a Child Porn Investigation
For the second time in less than a year, a New Caney man is under arrest for possession of child pornography, and this time, Montgomery County investigators found more than 500 images on the man's computer.
Video of the arrest of the child porn suspect in Montgomery County, TX.

The following news report, from March of 2013, seems to have marked the beginning of an all out scavenge for online child pornography cases in the Houston area centered on Montgomery County.
Montgomery County DA's office trying to find child pornography victims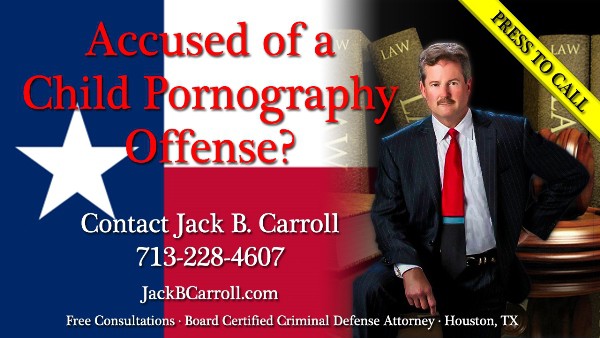 Sex Crimes Case Results · Montgomery County Criminal Defense Resources
Imagine The Repercussions
I can only image how many people are going to get charged, arrested, accused, and tried in the court of law for child porn cases that they may in fact be innocent of. The accused offender may even have to endure the embarrassment of an arrest because one of their neighbors hacked into, or had permission to use, their WiFi for internet connection purposes and ended up either downloading, or accessing indecent child photos, whether knowingly or not.
FBI involvement in Houston Area Child Pornography Cases
The precedent has already been set for the FBI and DHS to get involved in Houston area internet child porn cases with the arrest, and subsequent conviction, of former Harris County Detention Officer David Wayne Land. (See first news report.)
If The Federal Government Prosecutes
Once the internet sex crimes division of the Houston division of the FBI decides to get involved in the criminal prosecution of an online child pornography case using advanced computer forensics, they automatically assume it was the owner of the computer who committed the crime without regard for the idea that someone else may have used the computer to view the illegal material on the web.
Usually, they'll come to the bargaining table with an offer of 5 years incarceration as punishment for the crime. However, if they prosecute the criminal charge and gain a conviction, you could be looking at anywhere from 15 – 20 years in Federal Prison.
This hefty penalty applies to a single count of possession and distribution combined. This could lead to massive sentences to the tune of 100′s of years for alleged offenders with more than a few photos.
Mistakes have been Made
In my experience as a Houston criminal defense lawyer with a litany of experience dealing with the defense of clients charged with the distribution, receipt, or possession of child pornography, I can tell you that lots of wrongful arrests have been executed.
Some of Houston's internet sex crime arrests, in which I was the defense lawyer, were executed as a result of wives that have set up their husbands as form of revenge for some form of past transgression they never got over.
Furthermore, I can also tell you that more than 1 or 2 prominent, high profile, Americans have been set up to take the fall for these form of felony offenses.
Unknowingly Committing a Internet Sex Crime
Many of us either use, or have internet users close to us, that use various file sharing services to share data files, music, movies, and pictures over the internet.
While there are the more well known file sharing services like Frostwire, uTorrent, and the XDCC Catcher, one must not forget that social networks like Facebook (know your "friends") allow file sharing, duplication, receipt, and image downloading as well. In fact, people can even tag you in what may be an illegal photo depicting child porn and you may not be the wiser.
This can easily result in unfounded serious criminal implications can unsuspectingly land you in jail. The FBI already has the HASH Values of known images and videos with depictions of child pornography and can probably sweep whole networks and identify computers in possession of child porn in one fail sweep.
The Decisive Role of Technology in the Defense and Prosecution of Online Child Porn Investigations
Hash Values = Scan-able Fingerprints For Media Files
Hash Values are the digital number of pixels in an image or video.
Imagine an over-zealous computer forensics officer working in the Houston FBI's Federal Cyber-Sex Crimes Unit performing a Google-type forensic search for all the computers, or internet devices in a certain area of Houston, for known digital Hash-Tag Values of illegal sexual images involving children.
What if these images were known to have been bundled with music, movies, or video games, and downloaded by thousands in a specific area, or being used to target a specific area?
Are you already on the FBI's watch list?
Is this illegal?
Regardless of the potentially inspired questions, having a matching child porn hash value on your computer, or as a record of your online presence held by your ISP (internet service provider), is enough for an arrest warrant.
Not many Houston lawyers are cut-out for this form of defense against criminal prosecution.
Being charged with the possession, distribution, or the receipt of child porn, whether physical of over the internet, is a serious criminal offense and ruthlessly prosecuted by Houston area prosecutors working in Montgomery, Fort Bend, Harris, and Brazoria Counties.
If the federal government or local law enforcement has executed a warrant and have taken into their possession your computer, you need to contact Attorney Jack B. Carroll, or another qualified, Constitutionally adept, Houston criminal defense lawyer as soon as possible in preparation of fighting the charge.
A Child Porn Indictment Storm is Brewing in Montgomery County