Charge: MANUFACTURE/POSSESSION COCAINE WITH INTENT TO DELIVER 400+ GRAMS ALONG WITH A DEADLY WEAPON ALLEGATION: GUILTYIn this criminal case, my client was arrested with several ounces of cocaine.
He also had a history of prior arrests, and a weapon in the car.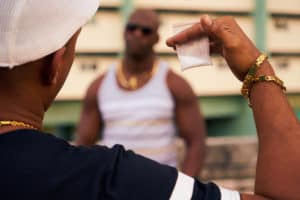 Unfortunately he confessed to police before contacting me. Sometimes if you give the State everything by cooperating, they will still throw the book at you.
The prosecutor made an offer of 15 years imprisonment at the Texas Department of Corrections (TDC) as a plea bargain with a plea of true (A plea of true means that he would have had to serve 5 years in the penitentiary for the gun charge,  separately, before being eligible for parole.) to the deadly weapon allegation.
(A deadly weapon finding makes one eligible for parole only after serving 50% of their sentence.)
I countered with 10 years, with no deadly weapon finding – no dice.
---
Accused of Cocaine Possession?
Call Houston Criminal Defense Attorney Jack B. Carroll
---
I set it for jury trial. The jury assessed punishment at ten years with no deadly weapon finding.
CASE RESULT: Guilty – Sentence: 10 years, client was eligible for parole within a short period of time.
---
If you or a family member were accused of Possession of a Controlled Substance, Attempted Delivery of Cocaine, or need a Houston criminal defense attorney to legal representation in the Greater Houston TX area for a drug charge, give me a call for a free case evaluation. My name is Jack B. Carroll, an experienced criminal defense attorney.
Reach me at 713-228-4607.
---
 Legal Defense of Client Arrested with Several Ounces of Cocaine (Houston, TX)