POSSESSION OF A CONTROLLED SUBSTANCE: COCAINE: NOT GUILTY
In this cocaine possession case, my client was asleep on his bed when the police burst thru his door and shook him awake.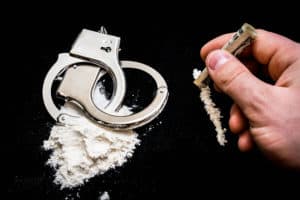 Lying next to him on the bed was a plate with close to a gram of cocaine.
My client's roommate called the Police as a result of an earlier argument.
When on the scene, the police didn't see any signs of an argument, or violence, but decided to search the apartment for reasons concerning officer safety.
My client said the cocaine belonged to his roommate.
I set the possession of cocaine case for trial.
The search for officer safety was bogus but the trial judge did not agree.
The jury did agree, and found my rule 38.23 motion was meritorious or they didn't believe the roommate.
The jury found my client NOT GUILTY.
---
Accused of Cocaine Possession or a Drug Crime?
Houston Criminal Defense Attorney Jack B. Carroll Can Help
---
 Texas Code of Criminal Procedure – Article 38.23. Evidence Not To Be Used

Art. 38.23. [727A] EVIDENCE NOT TO BE USED.

(a) No evidence obtained by an officer or other person in violation of any provisions of the Constitution or laws of the State of Texas, or of the Constitution or laws of the United States of America, shall be admitted in evidence against the accused on the trial of any criminal case. In any case where the legal evidence raises an issue hereunder, the jury shall be instructed that if it believes, or has a reasonable doubt, that the evidence was obtained in violation of the provisions of this Article, then and in such event, the jury shall disregard any such evidence so obtained.

(b) It is an exception to the provisions of Subsection

(a) of this Article that the evidence was obtained by a law enforcement officer acting in objective good faith reliance upon a warrant issued by a neutral magistrate based on probable cause. – Source
CASE RESULT: NOT GUILTY
---
If you were charged with a federal crime, accused of Possession of a Cocaine, Attempted Delivery of Cocaine, or need a Houston criminal defense attorney to represent you or someone you know in the Greater Houston TX area for a drug charge, give me a call for a free case evaluation. My name is Jack B. Carroll, an experienced criminal defense attorney.
Reach me at 713-228-4607.
---
Cocaine Possession: I Was Sleep and The Cops Busted In